As the busy rental season gets near, proper function of your inflatables, equipment, and accessories is imperative to a successful season. Don't wait until the last minute to replace your Worn out Slide or Step blanket covers for your unit! Order now With Happy Jump! Even if the unit is not ours, we'll make an exact match. Need heavy duty sandbags, stakes, soaker hoses, repairs, banners, blowers, we got that aswell.
---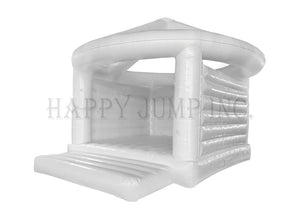 A colorful bounce house that will have kids occupied for many hours is not just to bounce in anymore, these bouncy castles now come in many different shapes and styles to not only fit kids but also to accommodate to any party themes. Bouncy and stylish is what most party planners are looking for now a days. Not just your standard bouncy will do anymore but your needs are to fit a certain look. Planning a wedding? Well.. we have something just for that special occasion to keep those special memories framed in an all-white wedding bouncy. Whatever your look or needs...
---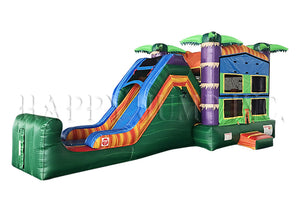 La Selva is an amazing combo! This Selva which translates to Jungle is a great 5in1 combo with many features including to be used wet or dry. The bounce house area and basketball hoop inside is a lot of fun. After bouncing and having fun on the bounce house kids have the option to slide down the 7' drop slide. This great unit has the option to display a banner in the front entrance to add your personalized theme party. A very specious unit with compact features to setup in backyards.  
---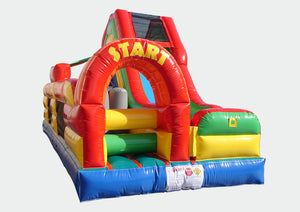 This is a great single piece unit that has the ability to add on a second of the same design on the opposite side to make it a dual lap obstacle course. Hop inside to start the race through many of the popups, once you get to the back climb up the stairs to the 9' slide and slide down to win the race.This exciting game is sure to keep kids and adults alike outside occupied for many hours giving them plenty of exercise! The Single Lap is a great design to fit many backyards and during the summer use...
---
Regardless of the weather conditions, offering your customers a wide selection of inflatables to rent from, makes you their one stop shop. Happy Jump's collection of Wet n Dry inflatable slides, combos or even obstacle courses are guaranteed to rent throughout the year. We also manufacture units to be used for indoor facilities, and also cater to customers who need custom units or sizes. Check out our social media accounts or browse our website.